The Best Of The Best
Writing this post was so much fun that we really had to apply some strict discipline in order to keep it professional.
Before heading over to Maui for a while, we decided to sample some of what Phoenix/Scottsdale has to offer. What could be more fun than sampling Martinis and sharing the recipes?
Our first stop was the Soul Cafe in North Scottsdale. This is already one of our favorite spots and the perfect place to start our bar tour.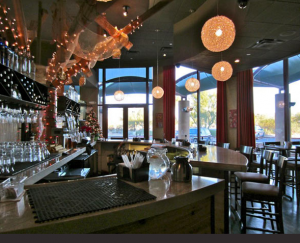 April 10, 2015, Happy Hour
The atmosphere is laid back and down to earth. The staff is friendly and casual. Sheila, the owner, stopped by for a few minutes to chat. The very excellent bartender, Conor, was kind enough to share the recipes of the drinks he recommended. Thank you, Conor!
1.  Hot Marilyn
Cut strawberries
Muddled Jalapenos
Mint & lime flavoring to taste, a few drops are sufficient (you can muddle fresh mint with lime rinds if you don't have flavoring)
1/2 oz Strawberry Puree
1 1/2 oz Skyy Strawberry Vodka
Muddle the jalapenos (and  the fresh mint with lime rinds if you're going to use them)  in the shaker, add ice, vodka , mint, lime and puree. Shake, strain and pour. Float the sliced strawberries on top and add a sliced jalapeno to the rim.
2.  
Coconut Martini 
1/2 oz Vanilla
2 oz Coconut Vodka
Splash of pineapple juice
1/2 oz Cake Vodka
1/2 oz of heavy cream or half and half, depending on your taste
Toasted coconut
Pour the liquids over ice into a shaker. Spin the rim of the martini glass in simple syrup and dip the sticky rim into the toasted coconut. Shake, strain and pour.
This is a high octane drink! It is so tasty that you can easily down three of them before you even feel the first one. Eat something with it.
Onward and upward!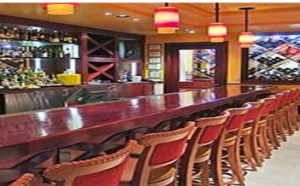 April 15, 2015, Happy Hour
Next on our list is Roy's Desert Ridge at the J. W. Marriott Hotel. Back in January we posted an article on Roy's cuisine. Now it's time to comment on their drinks.
We started going to Roy's in Hawaii when the first one was opened in Hawaii Kai on Oahu  in 1988 and were thrilled when one was opened in Phoenix .
In a fitting send off to tax day, what better place than the bar at Roy's? The atmosphere of the bar, restaurant and grounds are as close to a Hawaiian resort as one can get without actually being in Hawaii. The bartenders, Robert Holditch and Kenny Carlson were great and the restaurant manager, Chris Karkoski was very gracious and informative.
1.  Roy's Hawaiian Martini
This is Roy's signature martini and the recipe is for a batch that serves six. If you're going to serve this at a party, it needs five days advance preparation prior to serving and believe me, it's worth it!
1 Ripe pineapple
2 Cups of Skyy Vodka
1 Cup of Malibu Coconut Rum
1 Cup of Stoli Vanil
2  oz of simple syrup
Slice the pineapple into one inch pieces and store the slices in a gallon container. Thoroughly blend the Skyy Vodka, Malibu Coconut Rum, Stoli Vanil and the simple syrup. Pour the mixture over the pineapple slices. Let the whole thing sit at room temperature for five days to infuse the flavor. When it's time to serve, pour over ice, shake and strain into a martini glass. Garnish with a wedge of fresh pineapple leaving the skin on the wedge. Yum!
2.  1988
Roy Yamaguchi opened his first restaurant in Hawaii in 1988. This drink is in honor of that day.
1 1/2 oz Finlandia Grapefruit Vodka
1/2 oz Patron Citronge Liqueur
1/2 oz Soho Lychee Liqueur
1/4 oz Pomegranate juice
1/4 oz Fresh grapefruit juice
Shake, strain and pour. Drop in a whole lychee to complete. Some of the brand names may be hard to find, if so, use common sense substitutes.
Moving right along. Continue reading Martini Madness →