In our business we tend to print quite a few documents in both black and color. Lately, ink costs have been getting out of hand, about $100 per month. For our small business this is a lot.  So, we decided to look at some alternatives. We looked at laser printers and found that the color reproduction just wasn't as good as an ink jet. In doing some research we stumbled upon the Epson Eco Tank printer.
This is an ink jet printer that uses ink tanks instead of ink cartridges. One fill up will produce about 11,000 black prints and 8,500 color prints. This sounded pretty unbelievable.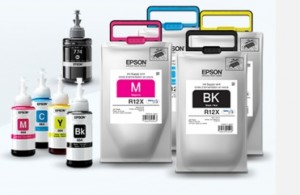 Doing the math, we figured out that it would take about 50 ink cartridges to equal the output of one tank fill up. This calculation showed a savings of 70-80%.
The initial investment is a little steep depending on the retailer. We found the retail cost to be in the mid to upper $400 range. If your print volume is about 300 pages per month, the initial investment should amortize in about 9-10 months and you still won't need to buy ink for another couple of years.
This printer has complete wireless capability and you can print from your phone, tablet and computer.
I liked this printer so much that I contacted the company that represents Epson printers. They hired me to represent the product in various retail stores.
Who knew?
Visit our online stores at:  www.Etsy.com