McDonald's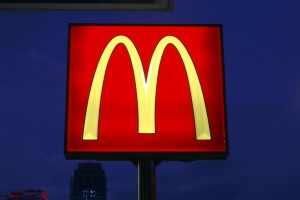 McDonald's is such a fixture in America that we pretty much take it for granted. Ya get hungry, ya stop, get a burger, fries, a drink and off you go. What could possibly be worth writing about?
Recently, McDonald's introduced their Sirloin Burger. Guess what? It's worth writing about. This burger comes in three varieties: Lettuce & Tomato, Bacon & Cheese, Onion & Mushroom. All three are very good.
The Onion and Mushroom was a real surprise. Not something you would expect from a fast food joint. Very tasty. My personal favorite? Bacon & Cheese! 1/3 of a pound of good quality meat, well cooked on a nice bun. It was so filling that the fries seemed to be overkill. But who can resist McDonald's fries?
As an afterthought, we decided on some dessert (as if we needed it). Two Dipped Ice Cream cones and coffee for under $5.00. The soft vanilla ice cream was covered with a crunchy chocolate dip in a wafer cone. It ain't gourmet but, pretty darn good.
So sue me, I like McDonald's.
Arby's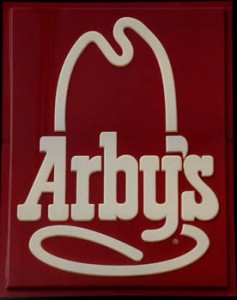 It has been a very long time since I visited Arby's, mostly because the menu was so limited. My, oh my how things have changed. The menu was almost deli like.
Our first thought was to order something on a King's Hawaiian Sweet Roll. These items were sold out this day so we went to plan B and ordered a couple of deli sandwiches.
Kathy ordered a Reuben Sandwich. This was more than you would ever expect and pretty close to New York deli. It was on marbled rye bread filled with freshly sliced corned beef, melted Swiss Cheese, sauerkraut and Thousand Island dressing. Very, very good!
I had the Smokehouse Brisket on a roll.  My sandwich was topped with smoked gouda, crispy onions, mayo and BBQ sauce. This was not something I would usually order but, the picture looked good and I wasn't sorry for my choice. Yum!
Both sandwiches came with tasty Arby's Curly Fries and a large drink and really good service, all for under $20.  This was pushing the fast food price envelope a little but, well worth it.
Burger King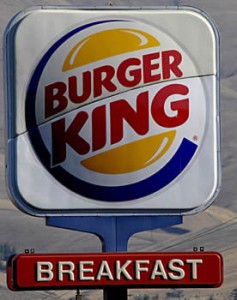 Breakfast at Burger King, who knew? Not me.
There were plenty of things on the menu but, once we cast our eyes on the Hot Cinnamon Rolls we stopped reading the menu.
The Otis Spunkmeyer Cinnamon Rolls are made with warm dough filled with cinnamon and topped with cream cheese frosting. If you are on a diet and counting calories, your diet just got shot to hell. These were so good that I almost went back for another order. Discipline prevailed.
Four Otis Spunkmeyer Cinnamon Rolls  and two very good cups of coffee, around $10. What a deal!
Peace, health and prosperity.
Visit us at: www.Etsy.com