The nice thing about having visitors is that you get to do things that you don't usually do. Recently we had some family visit from the East Coast and before getting here they made a reservation at The Mission in Old Scottsdale.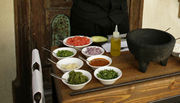 Now we have always been meaning to go here but, just never got around to it. Too bad for us! Great place. The menu is extensive and unusual. The food was very good Nuevo Mexican and the table side Quacamole outstanding.
The atmosphere in the dining room was a little dark but, the bar was big and bright. If you're single, this looks like a good place to mingle and meet.
Dinner for two with drinks and tips $140-$150.
Tom and Nicole we will see on Maui!
Visit us at: www.Etsy.com