Easy and Delicious
Here is a great recipe that you can make in 30 minutes or less. I fooled around with this a few different ways and settled on the ingredients and techniques listed.
What you need
A large frying pan
4-boneless pork chops 1-1/12″ thick (you could use 8-1/2″ bone-in chops but, they won't make good sandwiches the next day)
salt and ground black pepper
4-cloves of garlic
1-23.5 oz jar of Prego Italian Sausage & Garlic. (O.K. I know some of you purists might gag on this. But, trust me, it works great. If you can't bring yourself to use gravy out of a jar, use 1-can of peeled, crushed tomatoes, 1-can of tomato paste.)
1/4 cup of olive oil (not extra virgin)
1/4 cup of chicken broth
1/4 cup of white wine
1-tablespoon of dried parsley
1/4 teaspoon of red pepper flakes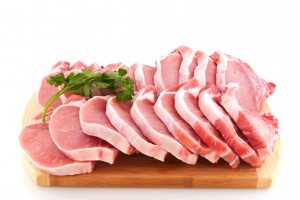 First
Using an electric knife, cut each boneless chop down the middle so that you will now have two cutlets. Salt and pepper to taste on both sides and set aside.
Second
Slice the 4 cloves of garlic thin. (Not chopped or minced). Get all your other ingredients lined up and ready.
Third
Heat the frying pan on mid heat. Pour the olive oil in the hot pan  and heat until you can pop a drop of water in the oil. Cook the garlic for about 30 seconds. Carefully place the cutlets in the pan and cook on both sides for about 1 minute each side or until the pork is white.  Don't over cook . If you do the meat will be tough. Remove from the frying pan and set aside.
Fourth
Add in the broth, gravy, wine, parsley and red pepper. Stir and let it cook until it bubbles slightly. Don't let the mixture burn. Place the cutlets back in the pan and let them cook on each side for about 4 minutes per side.
Serve them hot right from the frying pan. There will be enough gravy left over for a side of pasta if you like.
If you're gonna make pasta, get the water started before you heat up the frying pan so that everything will be ready at the same time.
A nice rose wine goes well with these flavors.
Enjoy!
Visit us at: www.Etsy.com