So what's new in Hawaiian music?  Kalani Pe'a, is what's new. This Grammy winning artist takes Hawaiian music and some pop covers, adds some unusual chords and progressions and creates something beautiful and different.
Usually when going to listen to Hawaiian artists perform, I expect great musicians, maybe sitting, playing and talking story. Kalani, however, adds a touch of Broadway to his performance. His stage presence is amazing, and the Hawaiian language just flows effortlessly made more beautiful by his powerful voice. The backup musicians, vocalists and hula dancers that perform on stage with him just make his performance that much better. Each of them an outstanding talent in their own right.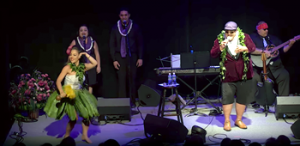 One of the things we were looking forward to when we moved back to Maui was the wealth of great talent. Little did we know that we would be living next door to this amazing Grammy winning artist.
Aloha nui
Visit our online store at: www.Etsy.com