I've been working at Maui Brewing Company in Kihei now for almost a year. If you've checked it out online, or if you've ever been to the brewery, you know that there is also a wonderful restaurant at the site. Not only do I get to work with some amazing brewery employees, I also rub shoulders with the tireless restaurant folks on a daily basis.
One day one of the restaurant employees walked by our desks carrying a huge box filled with beautiful copper mugs. "Anyone want a copper mug?" I guess these were extras, or no longer used. Needless to say, looking at all the shiny copper, I piped up "Sure – over here!!!"
Which got me thinking about the cocktails I've had in the past in similar copper mugs – Moscow Mules.
A Moscow mule is a cocktail made with vodka, spicy ginger beer, and lime juice garnished with a slice or wedge of lime and mint leaves.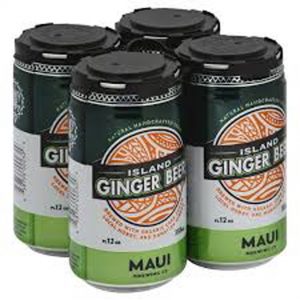 Moscow mules are typically served in copper mugs. Copper is an excellent conductor, meaning that cold or heat spreads rapidly through the material. While the copper material of your mug doesn't actually make the drink colder, it makes it seem colder than it would if you were drinking it out of a regular glass or mug.
If you're shopping for copper mugs, be sure to buy food-safe mugs that are not copper on the inside. Copper leaches into acidic foods and poses health risks, yikes!
Ingredients
2 ounces Vodka
4-6 ounces Maui Brewing Ginger Beer
2-3 mint sprigs, plus more for garnish
1 lime for juice, plus more for garnish
Directions
Muddle mint sprigs in the bottom of your copper mug
Add the juice of 1 lime.
Fill mug with ice.
Pour in vodka and ginger beer.
Add garnishes.
Stir and enjoy!
Why are Moscow Mules typically served in copper mugs?
According to Michael Cervin, in an August 2007 article on the Copper Development Association Inc. website:
"Most cocktails require specific glassware for their drinks—the highball and the martini glass, for example—however, the copper mug for the Moscow Mule is a must. If the old stories about the genesis of the drink are correct (they are mostly unanimous with a few variations) then it goes like this. In the early 1940s, John Martin was the president of G.F. Heublein & Brothers, an East Coast food and spirits importer best known for introducing A-1 Steak Sauce to America. Sometime in the 1930s, Martin, in an effort to market the next cocktail craze, purchased a small vodka distillery called Smirnoff for $14,000.
Yes, that Smirnoff. Back then, very few people drank vodka because most had never heard of it, let alone tasted it.
One day, while Martin was visiting his friend Jack Morgan who owned the Cock 'n Bull pub on the Sunset Strip in Hollywood, he bemoaned the fact that he couldn't sell his vodka. Morgan complained he couldn't sell his ginger beer, a side passion of his that saw cases of it sitting in his restaurant's basement. And a third person (never identified in any of the stories) lamented that she had copper mugs that she either didn't want or need. Enter the brainstorm. Could all three benefit from combining their losses? The vodka and ginger beer were mixed with a dash of lime juice and served in copper mugs, imprinted with a kicking mule."
Who knew?
You really need to try it. It's delicious.
Visit our online store at: www.etsy.com
Contact us at: [email protected]