Aloha,
It's been about three months since we arrived back on Maui to begin our new life in our old home. The first week was hectic, to say the least. All we had was a mattress and box spring, so we pretty much camped out until our container of personal belongings arrived. Immediately upon arrival at Kahului airport on June 27th, we picked up our rental SUV and then went to the agricultural station to retrieve our dog Teddi before heading home.
Our cars arrived from Matson Navigation about a week early, so we returned our rental car sooner than expected. We registered our cars and got new Hawaii driver's licenses that week.  Then around July 22nd, our PODs container arrived, with most of our personal belongings. About a week later our second container arrived with additional stuff that had to go into storage.
Everything went about 95% according to plan. The one thing we didn't anticipate was Teddi getting sick with bladder stones, which required expensive surgery that  really set us back. But he's doing well now, in fact more like a puppy than a ten-year-old dog. His vet was amazing, Tana Weeks, at Maui Lani Veterinary Hospital about 2 miles from our home. We are so very fortunate. He loves his new environment and has taken it upon himself to go strolling through the dog-filled neighborhood unsupervised. What a mayor! We had to put up doggie gates so that he stays in the house until we're ready to take him out.
I got a job selling appliances at Lowe's in Kahului and Kathy decided to take a few months off while she acclimates to the new environment (i.e., locating the best beaches and swimming pools). I previously lived on Maui for several years and everything was already pretty familiar to me. Kathy previously lived on Oahu, but Maui is very different, and required some getting used to. She has already made a lot of new friends, joined a local gym, and has taken a couple of great art classes. She anticipates looking for contract work soon.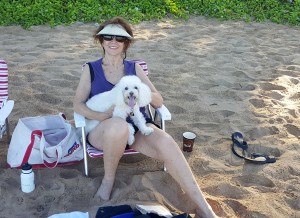 Everything is pretty much humming along, and we are beginning to really settle down. We consider ourselves blessed to be able to achieve this dream, after many years of planning and hard work.
Keep ya posted.
In this month's issue:
Visit our online store at: www.etsy.com
Contact us at: [email protected]